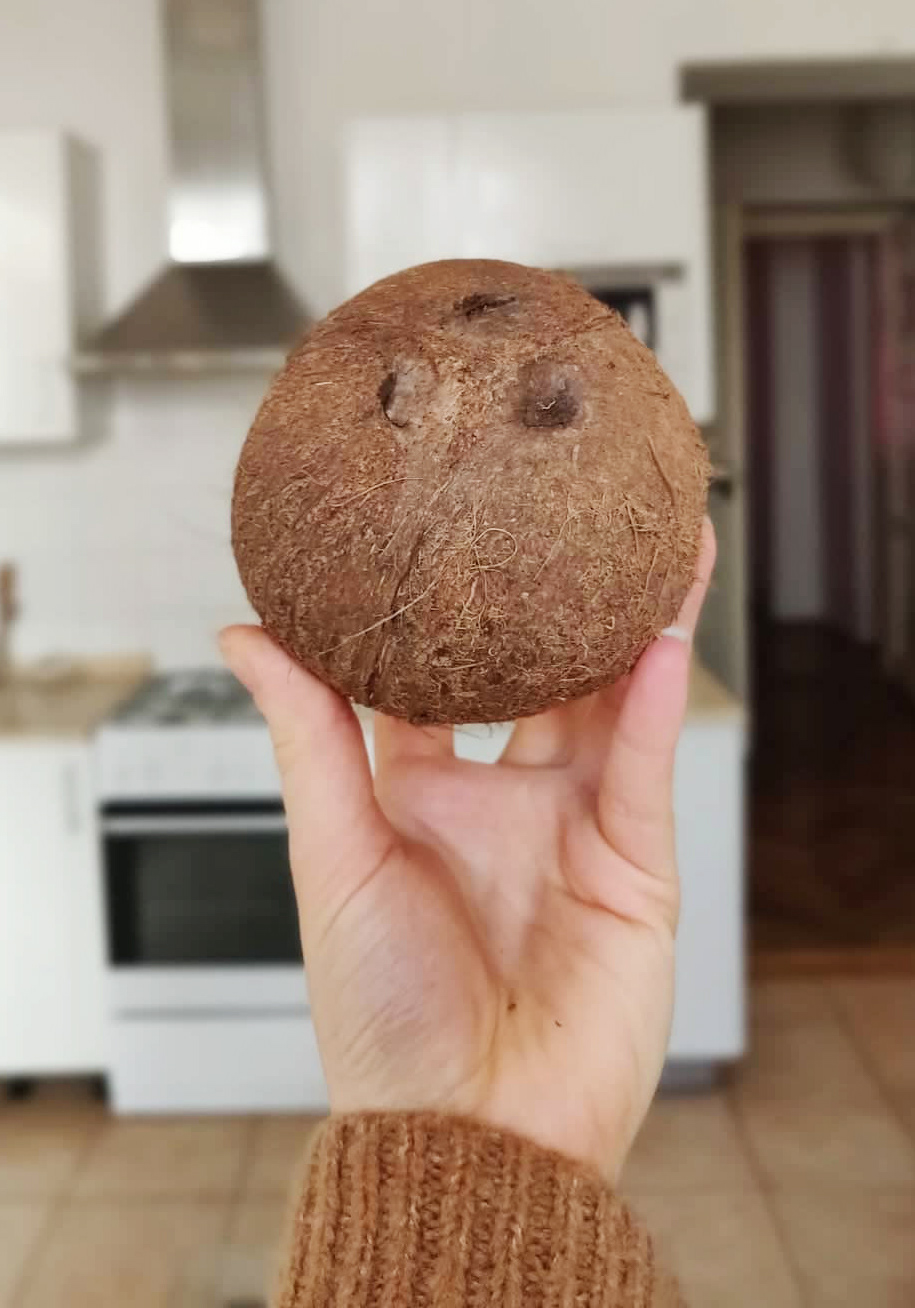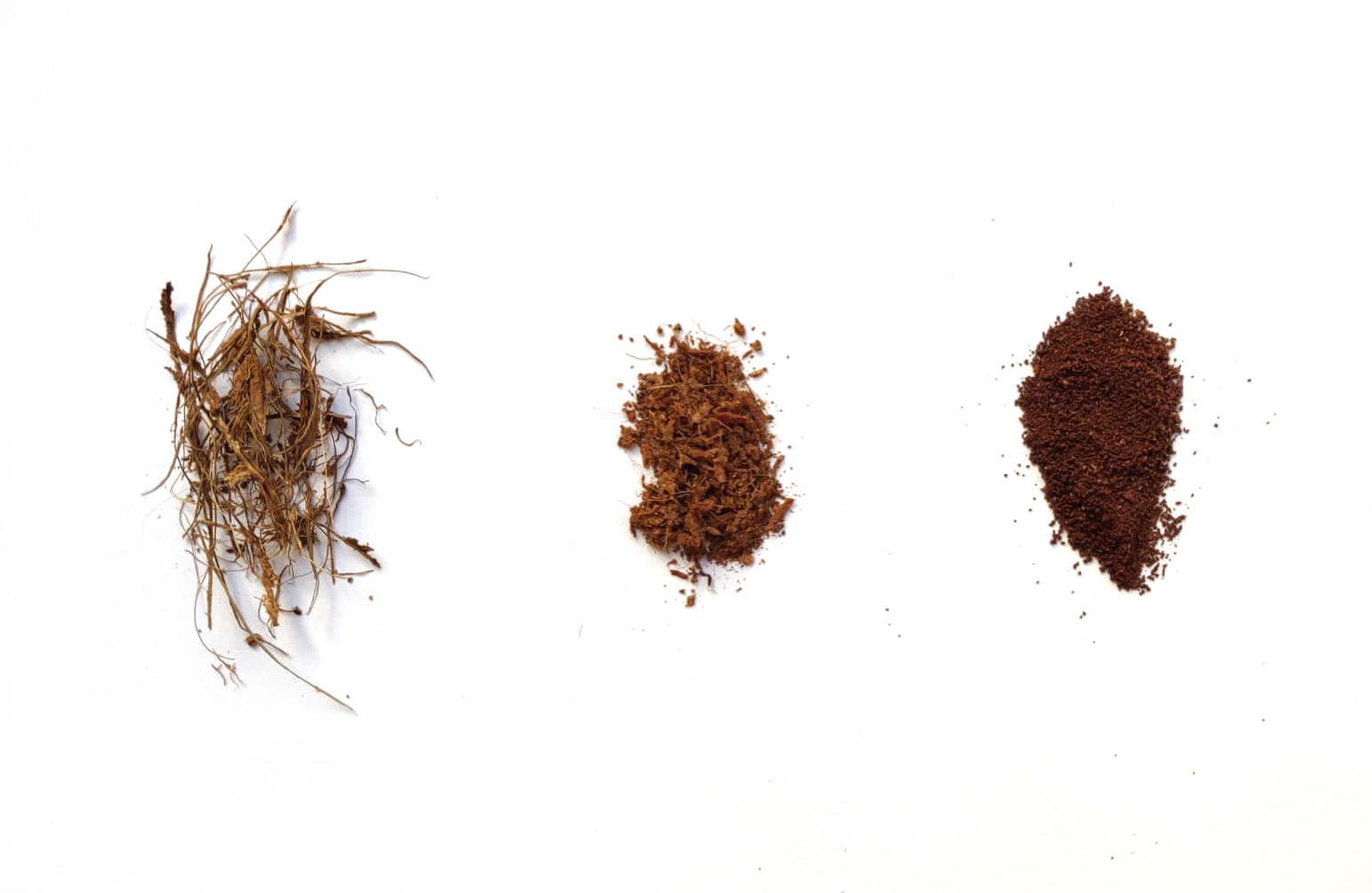 Change the way the world thinks about menstruation issues and undo the social 
stigmas surrounding them.
Talking about menstruation is still largely a social and cultural taboo across the globe. Although menstruation is a normal, healthy part of life for menstruators, stigmas abound. 
There are still many places where practices of ostracising menstruators are upheld, shaming girls and sometimes even excluding women and girls from taking part in everyday life. 
This affects the health and emotional, physical, and mental well-being of women, girls, and menstruators who identify as male or non-gender binary. Menstrual health has a huge effect on gender equality and access to equal opportunities.
The Case For Her want you to develop an innovative service, product or campaign that:
–––––––– tackles menstruation issues and social stigmas
–––––––– is grounded in a solid research base
–––––––– shows fresh thinking and does not replicate what's been done before.
But how did I get from the initial brief to my final outcome?
From researching about cultural taboos, sustainable alternatives to existing menstrual products and comparing the menstrual cycle to the life cycle of a plant, I eventually learned and researched about the amazing benefits of coconuts, especially the husk and coir. Thus, I proposed a speculative design concept that suggests the possibility of producing menstrual underwear from up-cycled tropical coconut biomass. 
Coconuts are nature's little miracles
Each year, the Earth gives us more than 20 billion of coconuts all over the world. Most of the coconut, especially the inner portion, is made into various products, just like food, medicine and cosmetics. The outer husk, also called coir, is made into mats, brooms, and even makes a great plant fertilizer. But mostly, the husk is considered waste. The discarded husks sit and rot in a landfill which is an inefficient process that can bring harm upon the environment.
But it turns out that coconut waste can be turned  into waterproof, odor-absorbent, breathable, highly fluid-absorbent, hypoallergenic, antibacterial, fast-drying and highly durable fabrics.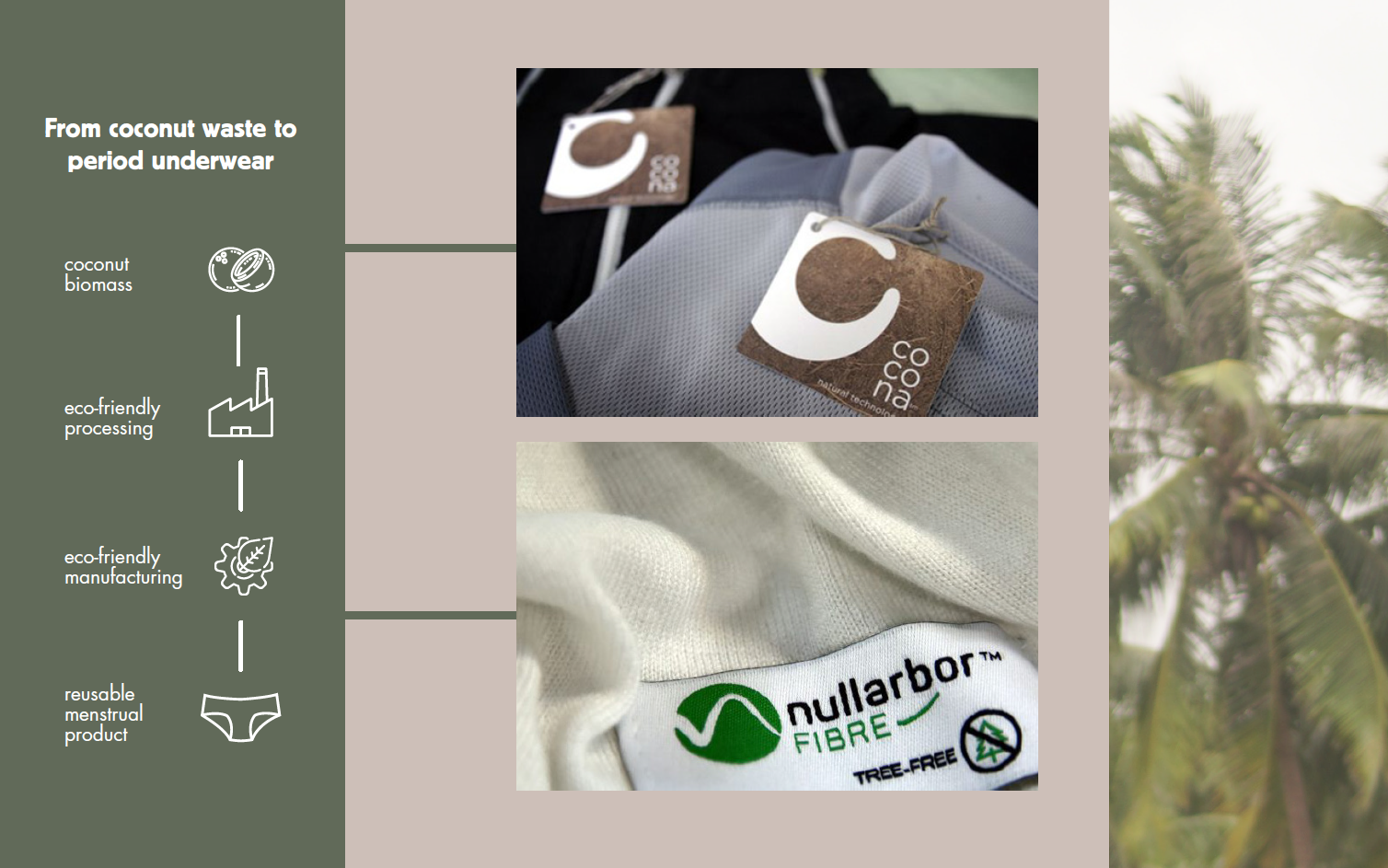 Innovative fabric technologies made from coconut waste
Cocona is a natural fabric enhancer that is made with activated carbon. The activated carbon is derived from coconut husks. It makes the fabric breathable, waterproof, odor-absorbent, fast-drying, hypoallergenic, and antibacterial. 
It is a permanent technology that never washes out or wears out. So far, Cocona is mostly used in sports wear.
Nullabor fiber by Nanollose
Unlike conventional rayon, Nanollose's sustainable Tree-Free Rayon is derived using microbes that convert waste products into microbial cellulose, in a process that takes less than one month and requires very little land, water or energy. The microbial cellulose is then converted into rayon fibres using the Nanollose technology, which is compatible with existing industry processing and manufacturing equipment. 
Nanollose is currently receiving the waste from the Indonesian coconut industry.
​​​​​​​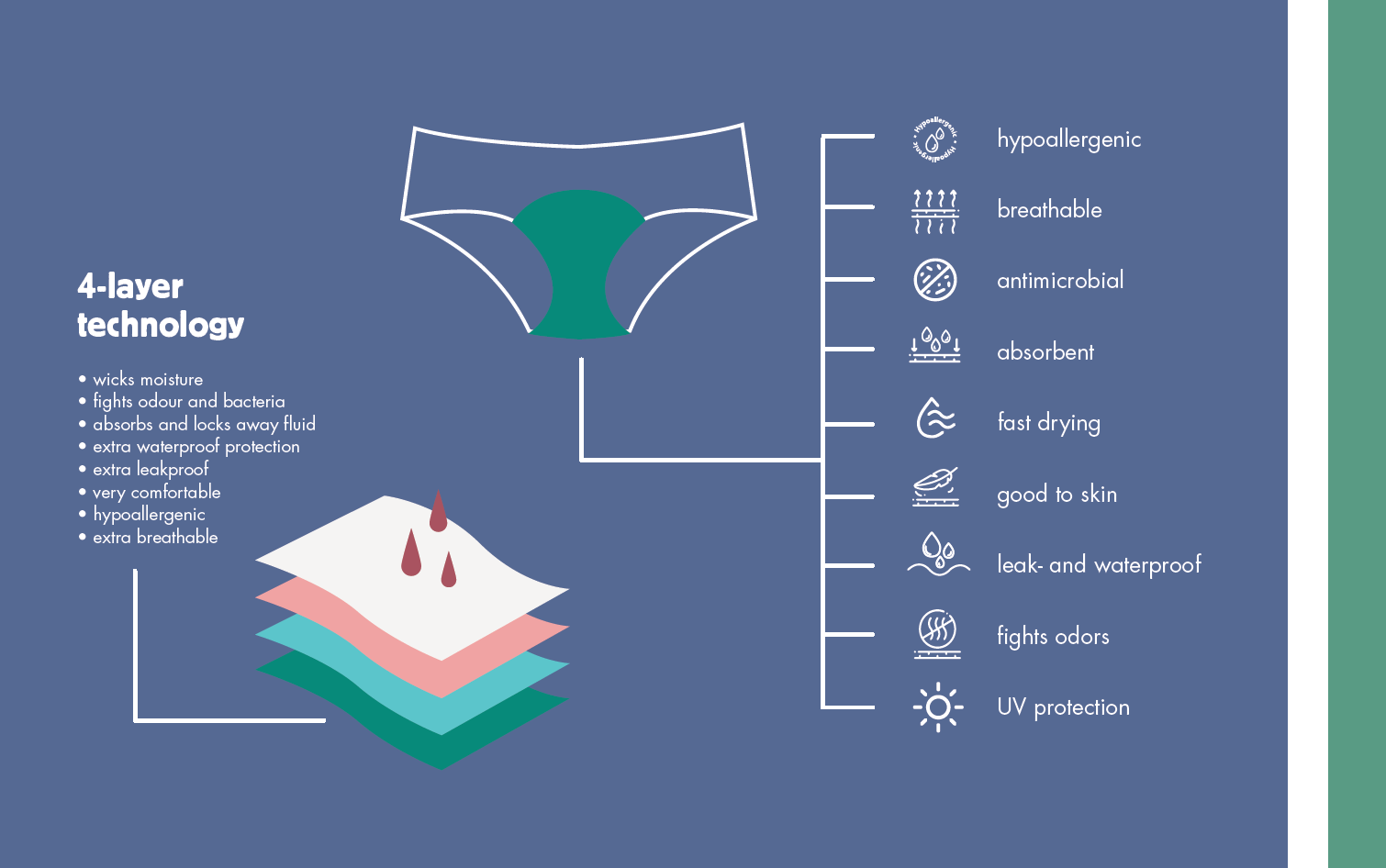 Game-changing 4-layer technology for ultimate protection during your period
–––––––––
Moisture-wicking fabric
Quick-drying and breathable. Neutralizes odors and fights the growth of bad bacteria. 
A natural fiber closest to your skin for added softness and breathability.
–––––––––
Super-absorbent fabric
Highly absorbent and 
leakproof layer made from Nullarbor fiber. Holds up to 3 regular 
––––––––– 
Extra leakproof
Icoconic added an extra protection layer, so you can feel safe and comfy while menstruating. 
Fights odor, bacteria and is breathable.
––––––––– 
100% waterproof outerlayer
Cocona fabric enhancer makes the icoconic panties 100% leak- and waterproof.
It's waterrepellent from the outside and even protects you from the sun.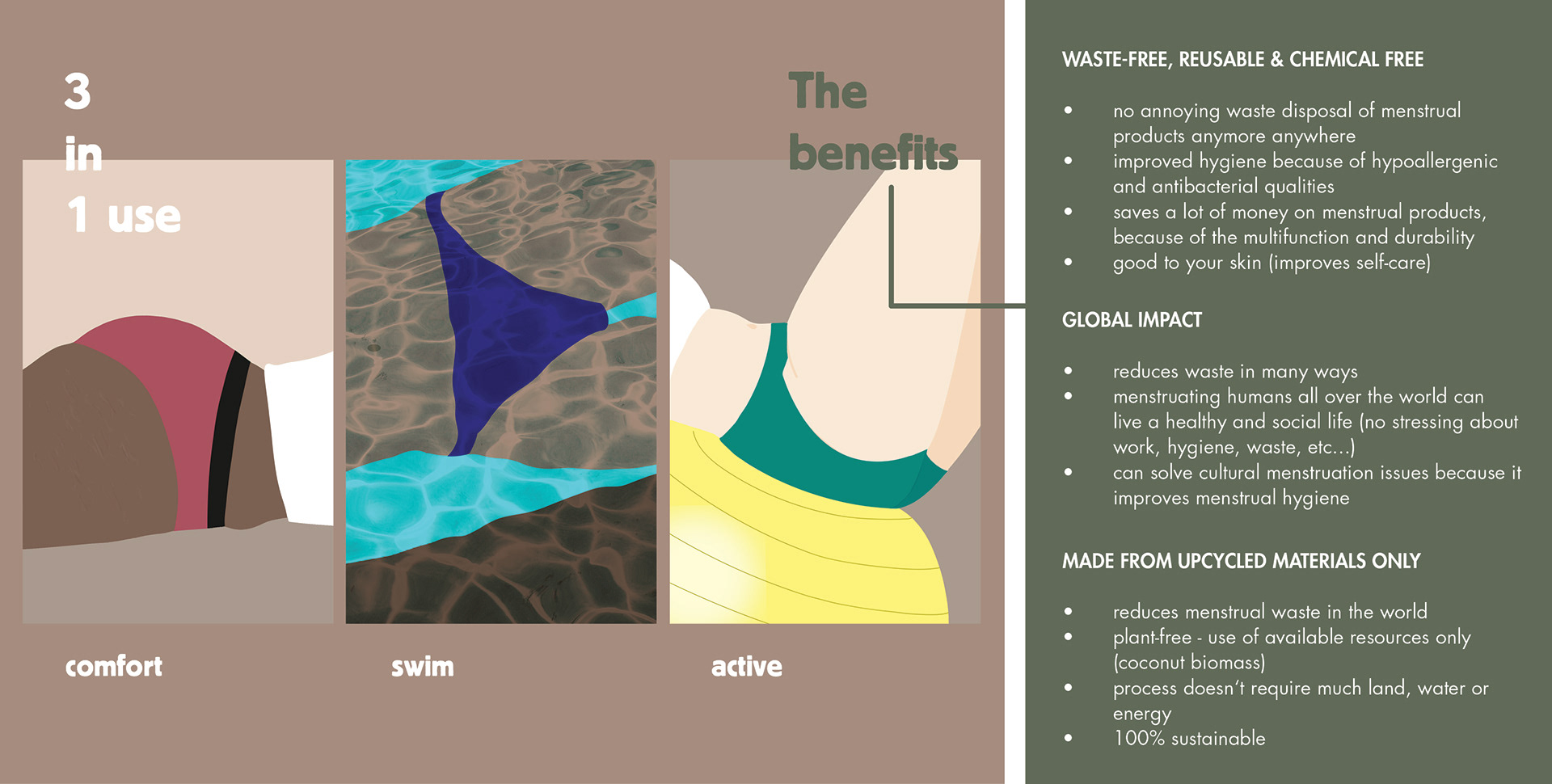 Multifunctional period panties made from up-cycled coconuts
To support my concept with visuals, I created a brand concept called
Icoconic
as it was impossible to make a functional prototype. The illustrations were made to bring the concept to life and make it more tangible.
Icoconic is a new brand on the period market. They produce period panties that are made from 
up-cycled coconuts derived from the tropical coconut industry. Icoconic works closely together with Cocona and Nanollose, two companies that revolutionize the 
textile market by turning coconut waste into wearable garments.
Whereas other brands still use organic cotton, organic bamboo and other 
seemingly sustainable materials, Icoconic is only made from available resources that. 
Coconuts grow naturally and the waste is usually discarded, ruining the soil. But newest technologies turn the waste
 into fabrics.